Fortunately, most bourbons are not that expensive, however, there are many that are.  There are also some that are so expensive you wonder whether you've read the price correctly and are amazed when you discover you have. Here's a list of the twelve most expensive bourbons ever – so far.
(As an aside, I wrote a detailed article that explains exactly why some bourbons are so expensive, which you can find here.)
1. Buffalo Trace OFC 1995 – $8,999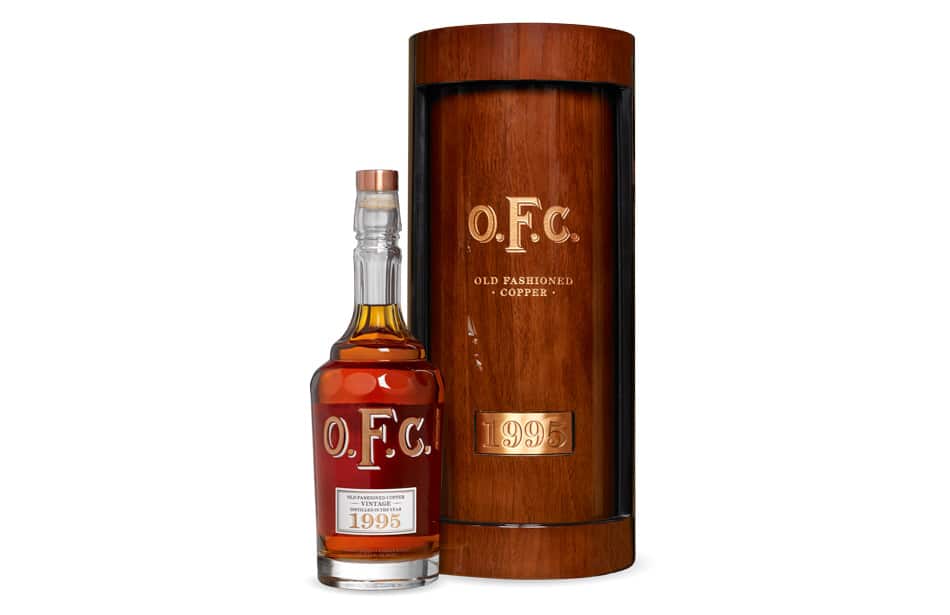 The Buffalo Trace distillery in Frankfort, Kentucky is today owned by the Sazerac Company, but it's had many names in the past. In 1870 the distillery was purchased by Edmund H. Taylor and given its first name, the Old Fire Copper (OFC) Distillery. It was the most state-of-the-art distillery of its era featuring copper fermentation vats, column stills, and a first-of-a-kind steam heating system, still used today.
The Buffalo Trace OFC 1995 is a rare and collectible bourbon that's made from the finest barrels to come out of Buffalo Trace and named as a tribute to the original distillery because Old Fashioned Copper represents the pinnacle in refined, rare, and remarkably crafted bourbon.
Each vintage is aged for more than 25 years and comes in a hand-cut crystal bottle that's vintage dated according to the specific year in which the bourbon was distilled. The bottles have an average price of $8,999.
2. Double Eagle Very Rare 20 Year Bourbon – $21,999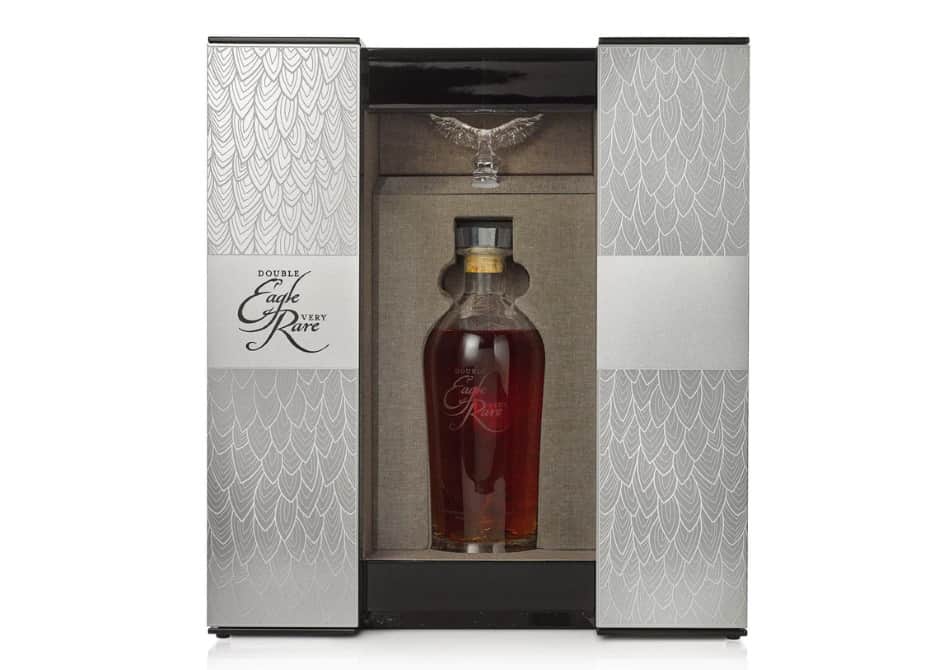 Eagle Rare is another bourbon from Buffalo Trace whose standard expression is aged for ten years and bottled at 45%ABV. However, the Double Eagle Very Rare is aged for 20 years and has a 50.5%ABV, making it a more complex and higher-end luxury bottling, that's part of the annual award-winning Buffalo Trace Antique Collection.
It's presented in a luxurious silver box and beautiful handcrafted crystal decanter which includes two crystal eagles, one inside the bottle and one as the bottle stopper. Also included, is an individually numbered letter of authenticity.
Each year since 2020, a limited number of bottles of this bourbon are produced and the most expensive one has sold for is $21,999.
3. Old Rip Van Winkle Bicentennial – $29,999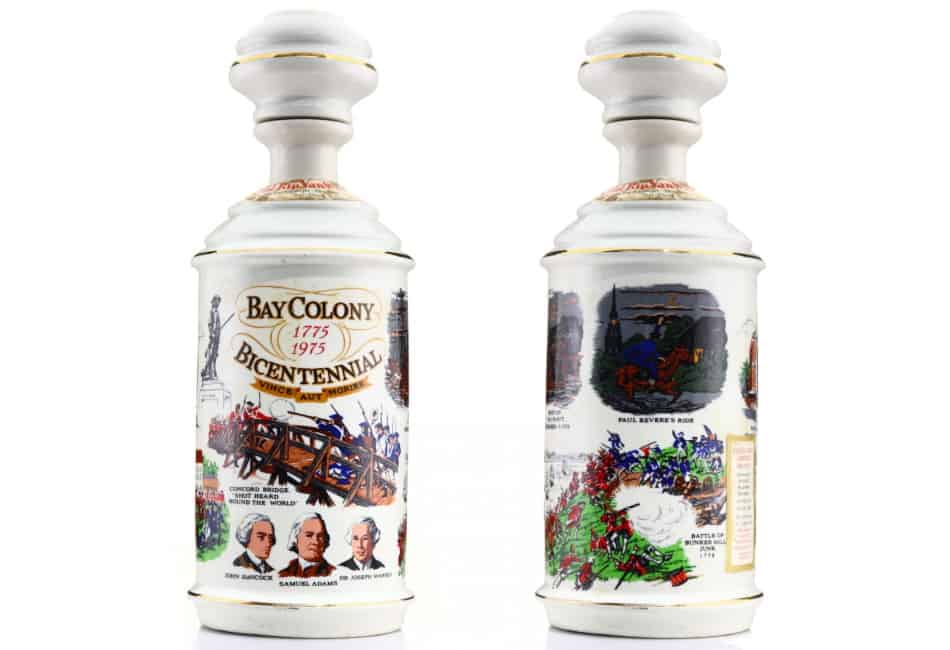 With a starting price of $800, all of the Pappy Van Winkle bourbons and those of its sister brands (Old Rip Van Winkle, Van Winkle Family Reserve and Van Winkle Special Reserve) are expensive. This means that the rarer and more valuable Van Winkle bourbons are even more expensive as you can see from the fact that they make up about half the bourbons on this list.
This Old Rip Van Winkle seven year old bourbon was made in 1975. During the mid-1970s there was a series of celebrations that paid tribute to historical events leading up to the creation of the United States of America, and this bourbon marks the Bay Colony bicentennial.
The bourbon itself is believed to be from the Stitzel-Weller distillery that was built in 1935 by Julian 'Pappy' Van Winkle Sr. Since the distillery was sold by the Van Winkle family in 1972 and then later closed in 1992, any remaining stock is highly revered.
The bourbon comes in a white porcelain decanter that has pictures celebrating the bicentennial. It's a limited edition, which is why although a few years ago some were sold for less than $1,000, those for sale now cost much, much more – $29,999.
4. E.H. Taylor Old Fashioned Sour Mash – $29,999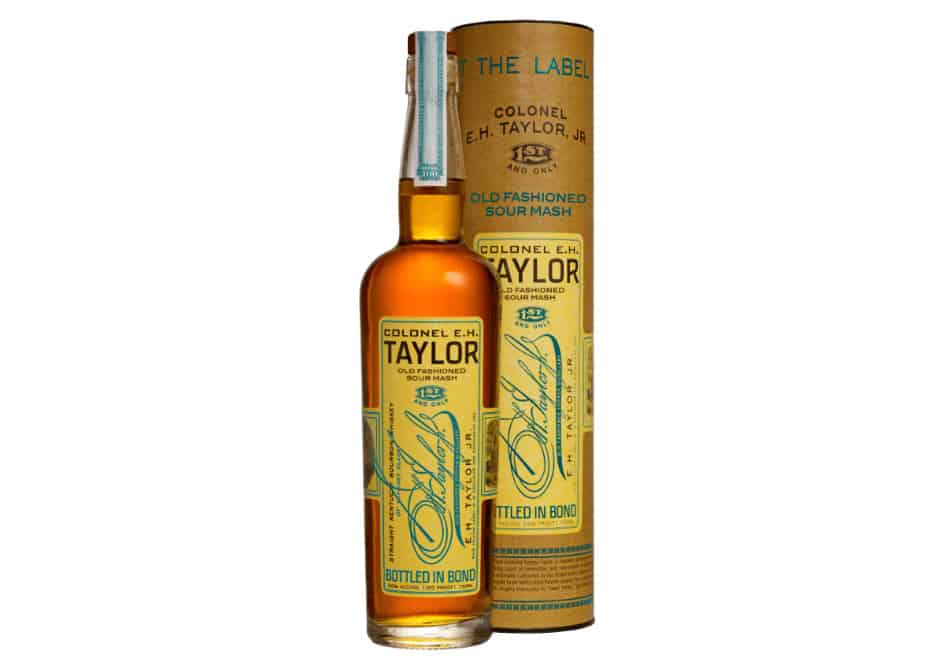 As mentioned above, Edmund H. Taylor bought and named what's today the Buffalo Trace distillery (the OFC), but his main contributions to the bourbon industry are the innovative techniques he developed there, many of which are still in use today. For example, copper fermenters, column stills and climate-controlled aging warehouses.
One of the techniques now no longer used, was to allow the mash (the cooked mixture of grains used to make bourbon) to sour naturally for days before distillation.
The Colonel E.H. Taylor Old Fashioned Sour Mash Bourbon is a recreation of his traditional sour mash. It's a limited edition and one-time offering that was distilled in 2002 and aged inside century old warehouses (constructed by E.H. Taylor) until 2012, where barrels were evaluated and selected to create a bourbon that honors his legacy.
Since this is an extremely limited release, a bottle is nearly impossible to find and if you do, hugely expensive to buy.
5. Van Winkle 16 Year Pot Stilled Selection – $34,995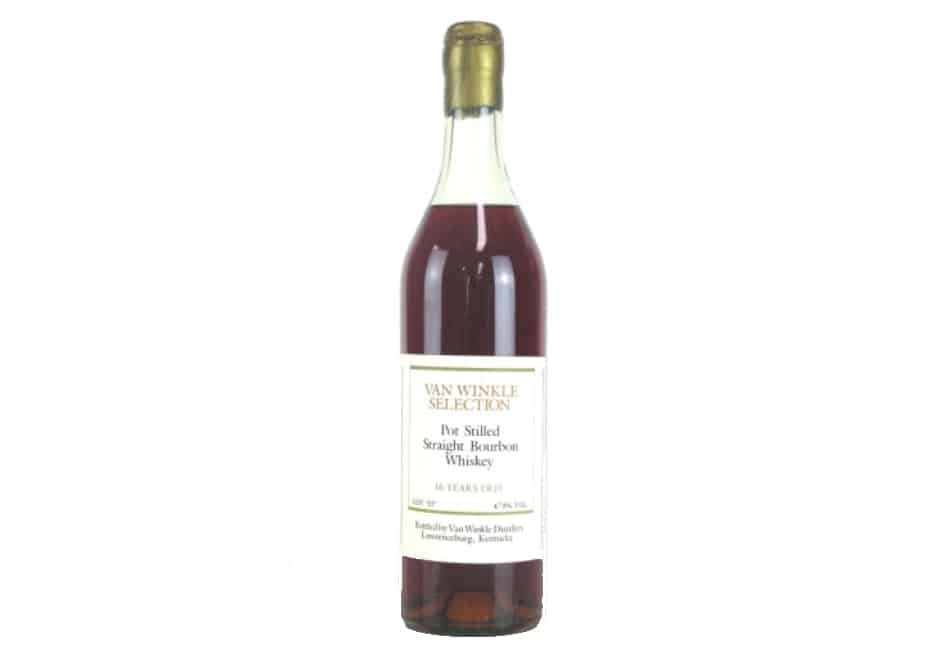 The Van Winkle Pot Stilled Selection bourbons are extremely rare. There's a 16-year-old and a 17-year-old expression, both of which were bottled in the early 1990s. They were originally created for the Japanese market but eventually they became available in the United States.
Some bottles of the 16-year-old were sold for $12,999 and some bottles of the 17-year-old were sold for $23,999. Now the remaining 16-year-old Van Winkle Pot Stilled Selection bourbons will cost you $34,995.
6. Michter's Celebration Sour Mash 2019 – $39,999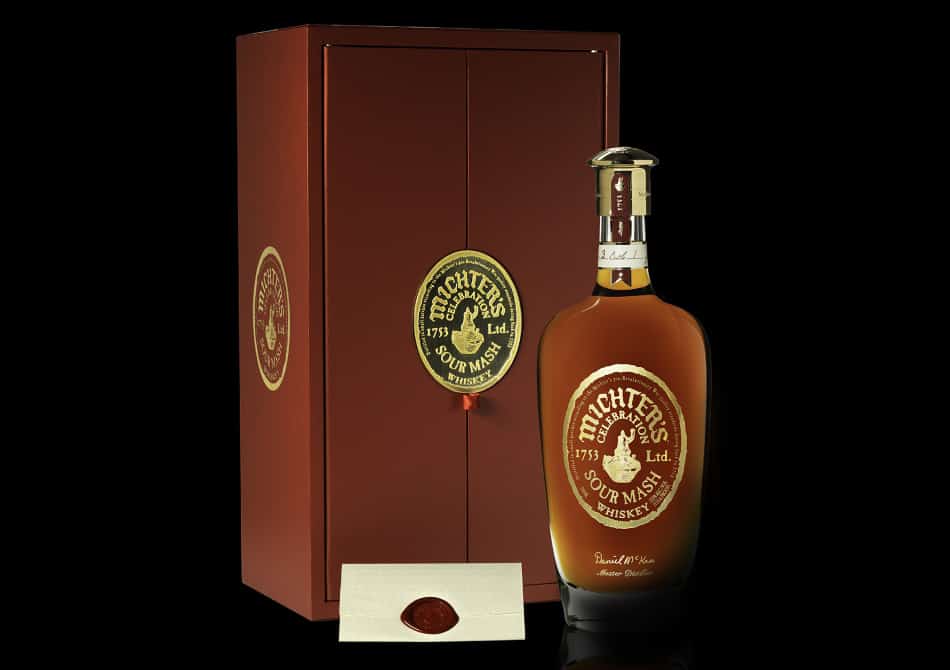 Michter's Celebration Sour Mash bourbon was first released in 2013. Master Distiller Willie Pratt hand selected sour mash bourbon from his favorite over-30-year-old barrels, his favorite over-20-year-old barrels and some other exceptional barrels and blended them into an extraordinary bourbon.
Consisting of Kentucky Straight Bourbon Whiskey and Kentucky Straight Rye Whiskey (bourbon whiskey has to be made from at least 51% corn, rye whiskey has to be made from at least 51% rye and 'straight' means it's aged for at least two years), the intent of this rare bourbon blend was that it should rival some of the best spirits from other parts of the world.
To date there have been a total of four releases. The first as mentioned, was in 2013, the second in 2016, the third in 2019 and most recently, the fourth in 2022.
The 2019 release was the first for Master Blender Dan McKee who, along with Master of Maturation Andrea Wilson, selected bourbon from six extraordinary barrels – two Kentucky Straight Bourbon Whiskeys and four Kentucky Straight Rye Whiskeys, aged anywhere from over a decade to over 30 years old. At 57.8%ABV, only 277 bottles were produced, some of which are the most expensive from among the four releases.
7. Van Winkle Handmade 16-Year-Old – $39,999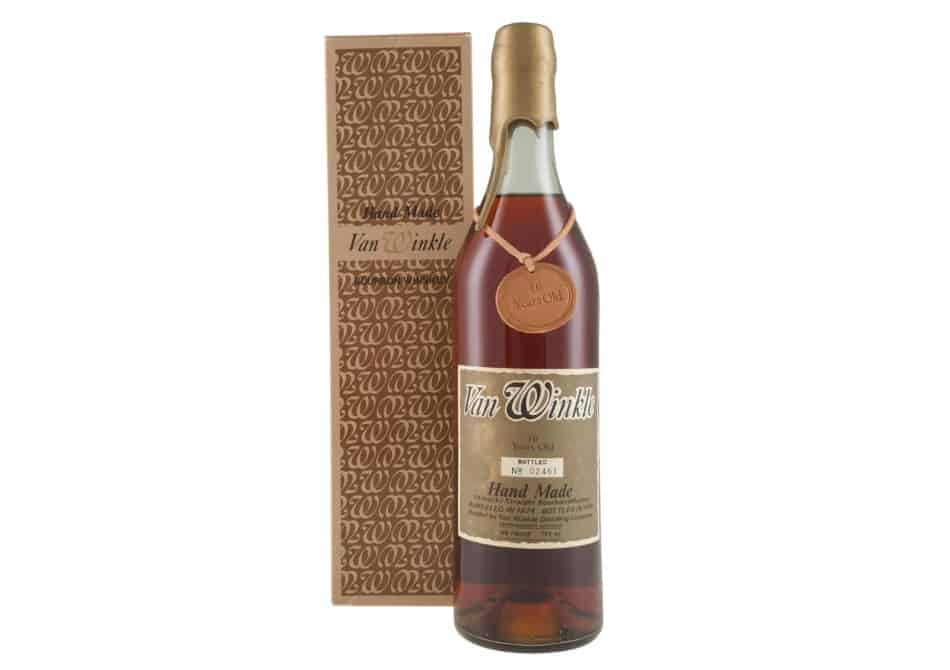 The Van Winkle Handmade bourbons are extremely rare. They were both distilled in 1974 but the 16-year-old expression was bottled in 1990 and the 17-year-old expression was bottled in 1991.
Although they were made before the Stitzel-Weller distillery (that was built by Julian 'Pappy' Van Winkle Sr) was closed in 1992, it's thought that the bourbons were distilled at the Boone distillery in Petersburg, Kentucky – the same place as the early Pappy Van Winkle's Family Reserve 20 Year expressions.
These bourbons are the only Van Winkle bottles with red wax – a short-lived idea that had to be abandoned when they were told to cease and desist by Maker's Mark who hold the red wax trademark.
Bottles of Van Winkle Handmade 16 Year are sold for $19,000, $29,999, and $39,999.
8. Redemption 36-Year-Old Bourbon – $41,999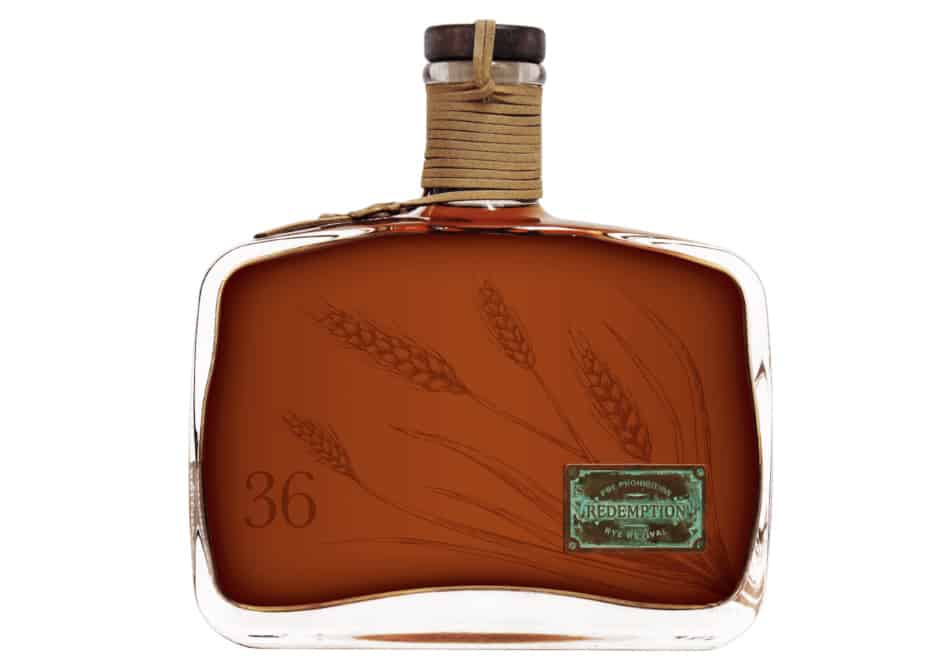 The Redemption 36-Year-Old is one of the oldest and rarest bourbons ever. It's one of the oldest because it was aged for 36 years, and it's one of the rarest because it comes from a single barrel that was aged for 36 years so it had an evaporation rate of 95% and only produced 18 bottles!
The bourbon is bottled at cask strength – in this case 48.8%ABV, which is why it's rich and delicious flavors are so intense.
Each of the 18 bottles are handmade and silk screened with Rye fronds. On its front are hand painted metal labels and it's finished with leather cording around the neck of the bottle. There's also an actual penny from 1978 (the year the bourbon was distilled) embedded in the wooden stopper of each bottle.
These 18 bottles sell at various prices with the lowest being $29,000 and the highest $41,999.
9. Old Rip Van Winkle Family Selection – $44,999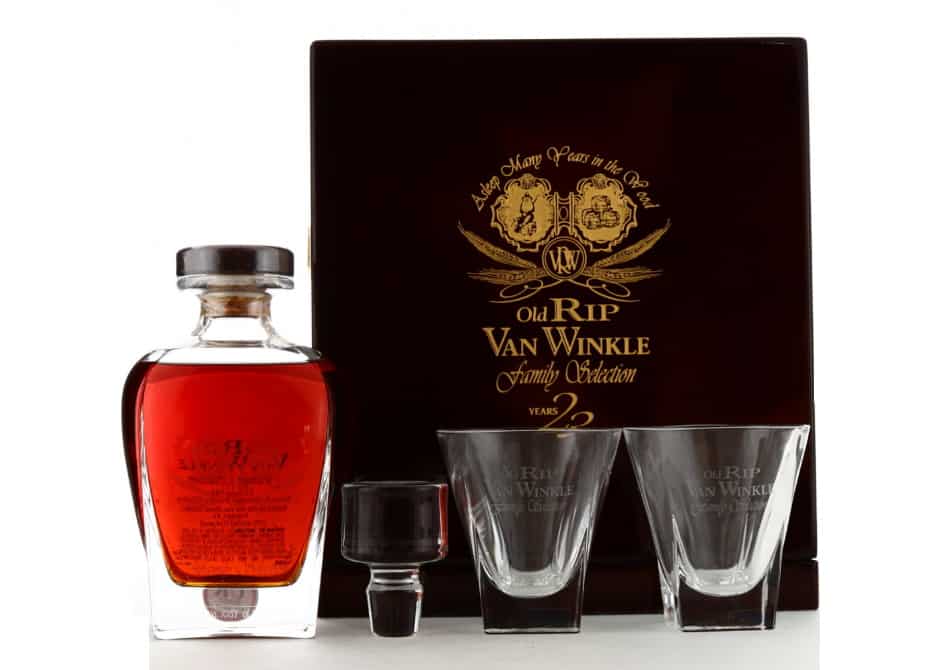 This limited-edition Old Rip Van Winkle is a 23-year-old bourbon produced from a small batch of 1986 vintage Stitzel-Weller barrels chosen by Julian III and his son, Preston Van Winkle, and bottled in 2009 at 57%ABV. Not only is this Old Rip Van Winkle bourbon from original stocks, it's also the first time that the 23-year-old was made at a strength other than the series standard of 47.8%ABV.
The bourbon comes in a hand graved crystal decanter and solid wood, leather-lined box that also contains two Glencairn glasses and a Certificate of Authenticity signed by the company President, Julian P. Van Winkle III.
Only 1,200 sets were released, the most expensive of which costs $44,999.
10. Van Winkle Corti Brothers Special Reserve – $49,995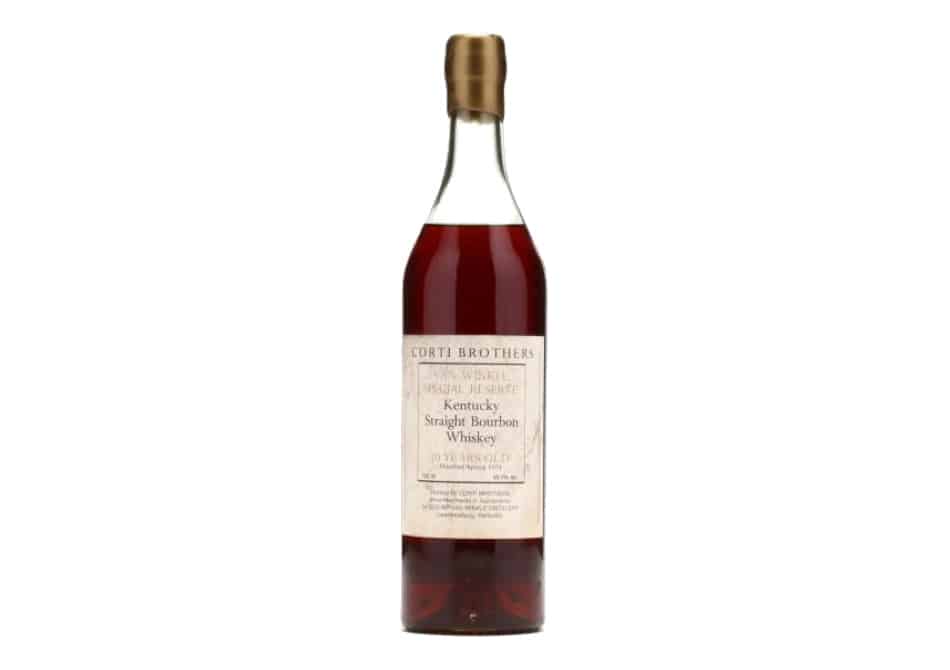 The Corti Brothers – a family grocer located in Sacramento, California, would search for bourbons they liked and order their own bottlings. They contracted their first exclusive Van Winkle Special Reserve bottling in 1987, and this bottle from 1994 is one of only a handful that followed.
Two bourbons were bottled at that time – a 19-year-old bourbon from the Fall distillation of 1975 and a 20-year-old bourbon from the Spring distillation of 1974.
In the 1990s these bottles sold for between $20 and $40 each – which is next to nothing in Van Winkle bourbon terms. However, fast forward a few decades and a bottle of the 19-year-old will cost you $24,776 and a bottle of the 20-year-old will cost you $49,995.
11. The Last Drop 1980 Buffalo Trace Bourbon – $59,995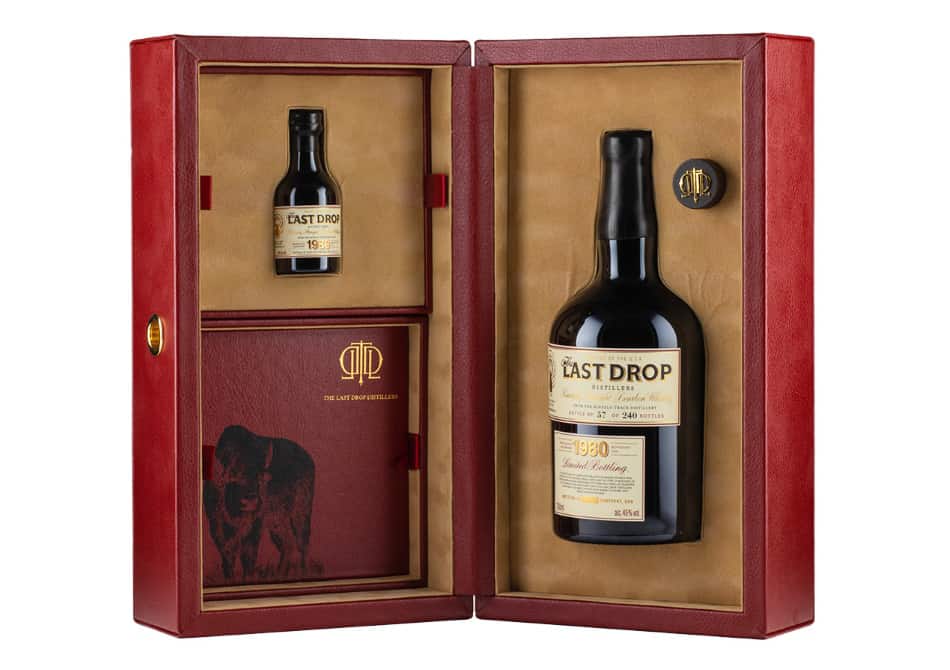 As mentioned above, the Buffalo Trace distillery is today owned by the Sazerac Company, but prior to that it was owned by Edmund H. Taylor and then George T. Stagg.
When the distillery was sold to the Sazerac Company in 1992, they bought the whole site, lock stock and … barrel. And hiding away in one of the corners of the many warehouses, were some tiny parcels of old bourbons, one of which eventually found its way into the hands of The Last Drop Distillers.
It was a bourbon distilled and barreled in 1980 by Gary Gayheart – who was at the time Master Distiller of what was still the George T. Stagg distillery, and uncovered 20 years later by his apprentice, Harlan Wheatley – who's the current Master Distiller at what's now called the Buffalo Trace distillery.
In the year 2000 the bourbon was vatted into stainless steel so it wouldn't continue to age – some whiskeys can become over-oaked and astringent if aged for too long, and while that certainly stopped it from picking up any more flavors from the barrel, it didn't stop the flavors it did have from continuing to evolve for the next 21 years, until it was bottled and released in 2021.
That's why although technically it's a 20-year-old bourbon, it's 40 years old in … spirit.
Only 240 bottles of this bourbon were produced, and they each come with a miniature 5cl bottle so that you can keep your full bottle sealed. The most expensive price this bourbon sells for is $59,995.
12. Old Rip Van Winkle 25-Year-Old – $64,999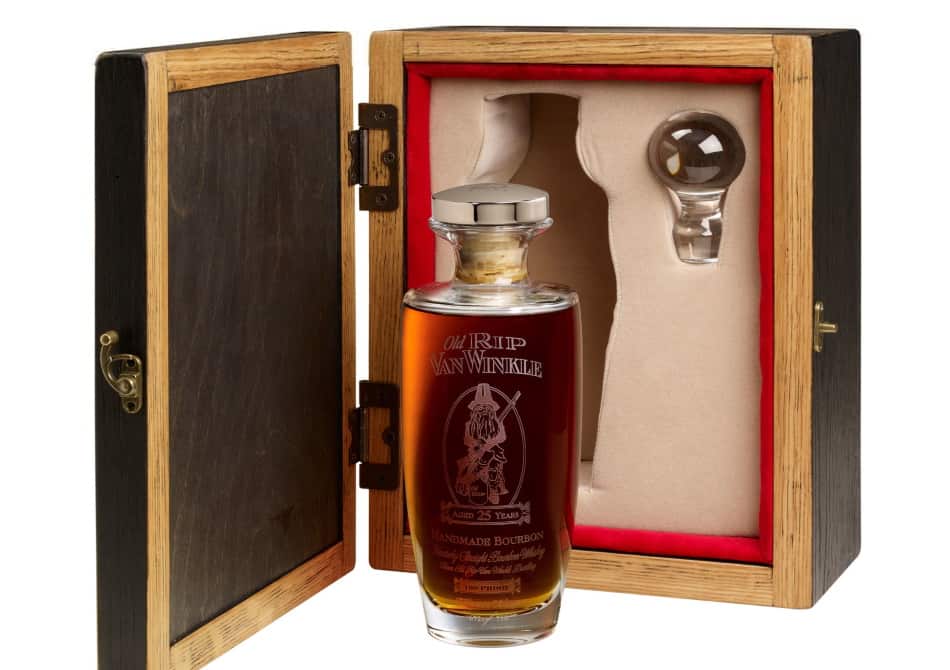 This bourbon was distilled in 1989 and bottled in 2015. It was uniquely aged as it comes from only eleven barrels that were stored on the lower levels of a metal clad warehouse at the Stitzel-Weller distillery until 2002, when they were moved to the lower floors of the brick warehouses at the Buffalo Trace distillery, where they continued to age for another 12 years.
The bottle the bourbon comes in is actually a handmade glass decanter from Glencairn Crystal Studio with two stoppers – one of silver and one of glass, and the number of the bottle is engraved on each decanter. The decanter comes in a wooden box made from the staves of the above-mentioned eleven barrels that the bourbon was matured in. They're signed by Julian Van Winkle.
Only 710 of these bottles were made, and their original retail price was a mere $1,800. As expected, none of these extremely rare and limited bottles made it to the shelves, and the price has increased dramatically to between $49,995 – $64,999.