Scotch whiskies can definitely be expensive but there are some Scotch whiskies that are so expensive you wonder whether you've read the price correctly and are amazed when you discover that you have. Here's a list of the twelve most expensive Scotch whiskies ever – so far.
(As an aside, I wrote a detailed article that explains exactly why some Scotch whiskies are so expensive, which you can find here.)
1. Johnnie Walker Diamond Jubilee – $216,617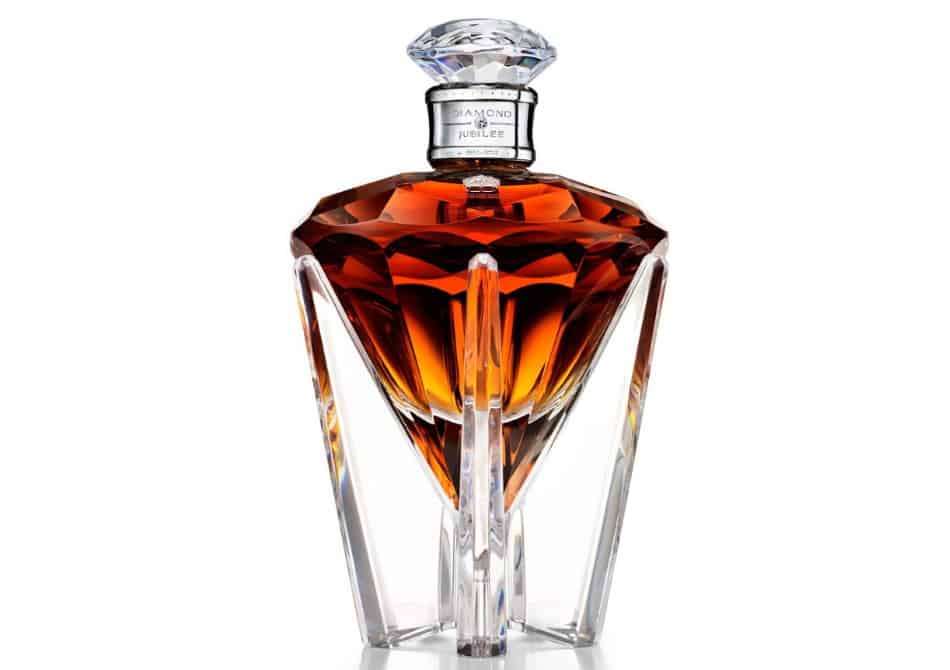 As holders of the Royal Warrant, (which is just a fancy way of saying they're legally allowed to advertise the fact that they supply their Scotch whisky to the royal family) Johnnie Walker marked the Queen's Diamond Jubilee (60 years on the throne) with a blend containing Scotch whiskies that were all distilled in 1952 – the year of the Queen's accession.
The whiskies were married in two small casks made with oak from the Royal Estate at Sandringham and laid down at the Royal Lochnagar distillery, which is close to the Queen's Balmoral Castle. 60 bottles – one for each year of the Queen's reign, were bottled on the 6th of February 2012 – the actual day of the anniversary.
The whisky comes in a diamond-shaped Baccarat crystal decanter, set with a half-carat diamond in a Britannia silver collar and a bespoke cabinet, crafted from Sandringham oak and Balmoral Caledonian pine. The cabinet is inlaid with exquisite marquetry using veneers from countries of the Commonwealth. Two hand-engraved, English lead crystal whisky glasses are included.
It costs $216,617, but the profits were donated to the Queen Elizabeth Scholarship Trust, which funds world class training of craftsmen and women in traditional skills.
2. Macallan M Imperiale Lalique Decanter – $628,000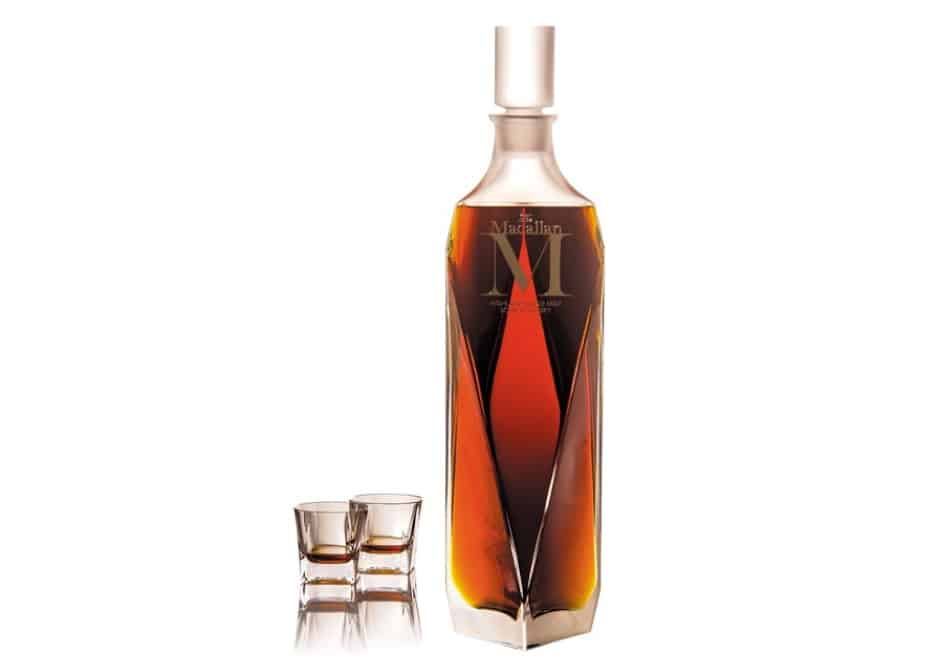 The Macallan is one of the most expensive Scotch whisky brands in existence. Their whiskies have been known for breaking records when it comes to price both on a personal level ('how much did you say that 15-year-old Scotch whisky was?') and at auction, which is why they make up so many of the Scotch whiskies on this list.
The Macallan M Collection celebrates the six pillars Macallan use to create their Scotch whiskies. The Scotch whiskies that make up the collection are usually priced at around $6,000 – $8,500.
The Macallan M Imperiale Lalique Decanter is 25 – 75-year-old Macallan M Scotch whisky in an Imperiale six liter decanter from Lalique that takes 17 craftsmen 50 hours to make.
There are only four of these Scotch whiskies. Macallan kept two of them, one was committed to a private collector and the fourth was bought at auction for $628,000.
And if you think that's not too expensive because after all it's a six-liter decanter which is the same amount as eight 750ml bottles, that still makes it $78,500 a bottle – which keeps it firmly in the very expensive Scotch whisky category.
3. Macallan Red Collection Javi Aznarez – $975,756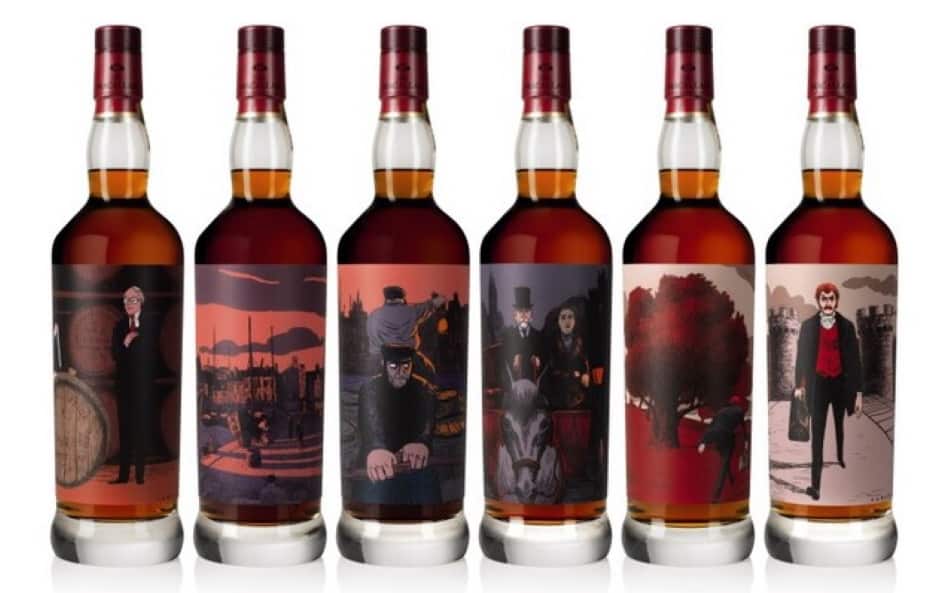 The Macallan Red Collection is a limited edition set of six highly aged Macallan Scotch whiskies, including two of the oldest Scotch whiskies ever released by the distillery – one 74 years old and one 78 years old. The limited edition set usually costs around $126,000 and the six bottles can even be bought individually for between (depending on the bottle) $15,000 and $78,000.
The Macallan Red Collection Javi Aznarez Labels is even rarer as it's one of two Red Collection sets that has exclusive labels, illustrated and signed by Spanish artist Javi Aznarez. One remains in the Macallan archives, but the other was sold at auction for $975,756.
4. Macallan in Lalique Legacy Collection – $993,000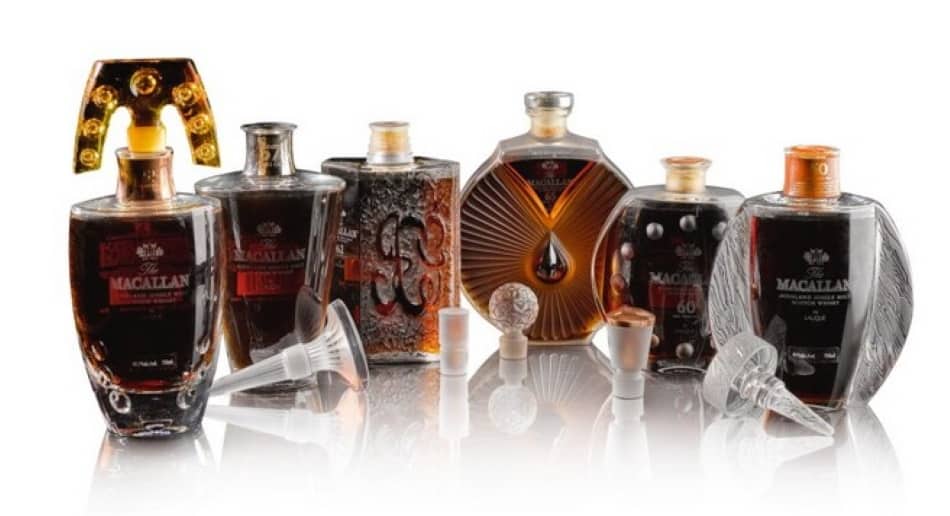 The Macallan in Lalique Legacy Collection is a set of six Lalique crystal decanters containing some of the rarest Macallan Scotch whiskies aged 50 to 65 years old. Each of the six limited-edition decanters had originally been single releases with the cheapest being $115,830 and the most expensive $262,834.
When the whole collection was sold at auction – housed in a bespoke natural ebony cabinet that also contains six miniatures and six pairs of Lalique Macallan glasses, it fetched $993,000.
5. Macallan 1926 60 Year Peter Blake Label – $1.04m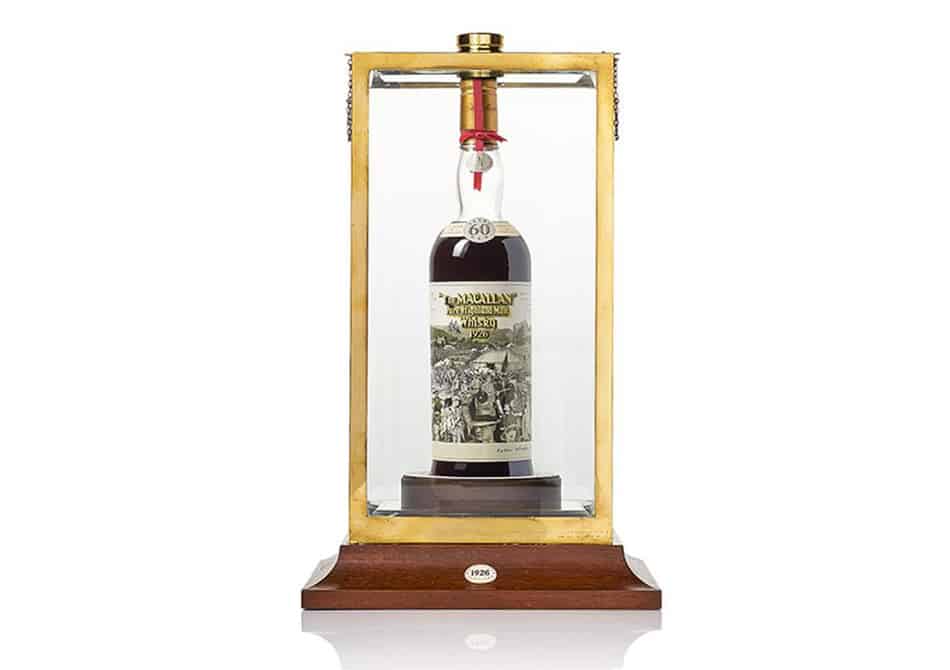 In 1986, 40 bottles of 60-year-old Macallan Scotch whisky were released. They were all very expensive – in the tens of thousands of dollars, but some were given special labels which made them even more expensive. Twelve of these bottles have a label designed by famous pop artist Sir Peter Blake, which increased their value dramatically as one of these bottles was sold at auction for $1.04 million.
6. Macallan 1926 60 Year Valerio Adami – $1.07m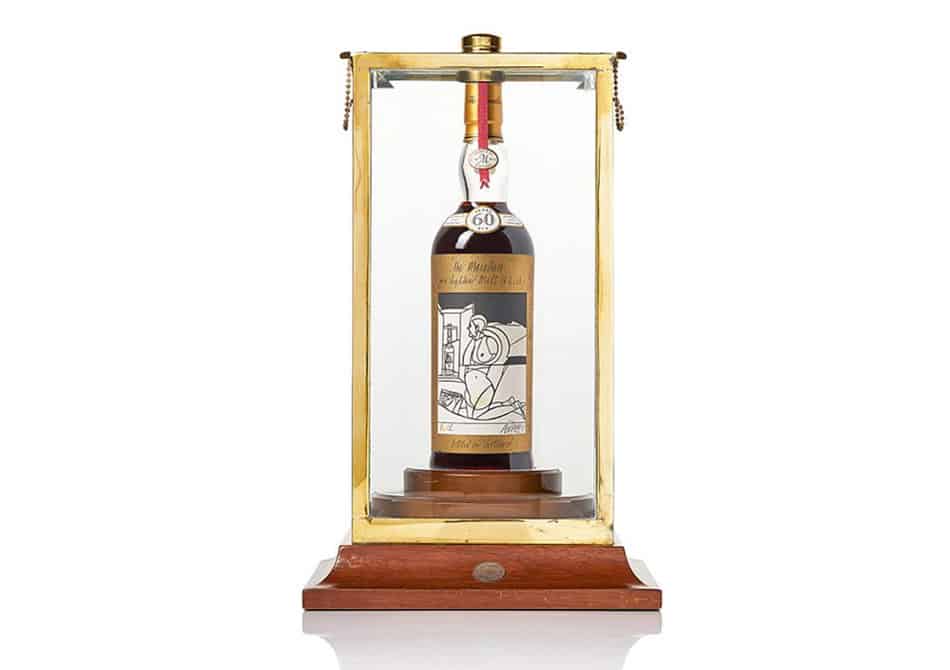 Another 12 of the 40 bottles of 1926 60-year-old Macallan Scotch whisky, had their label designed by Italian painter Valerio Adami. This also increased their value dramatically as one of these bottles was sold at auction for $1.02 million – and another for $1.07 million.
7. The Dalmore Decades 6 Bottle Collection – $1.1m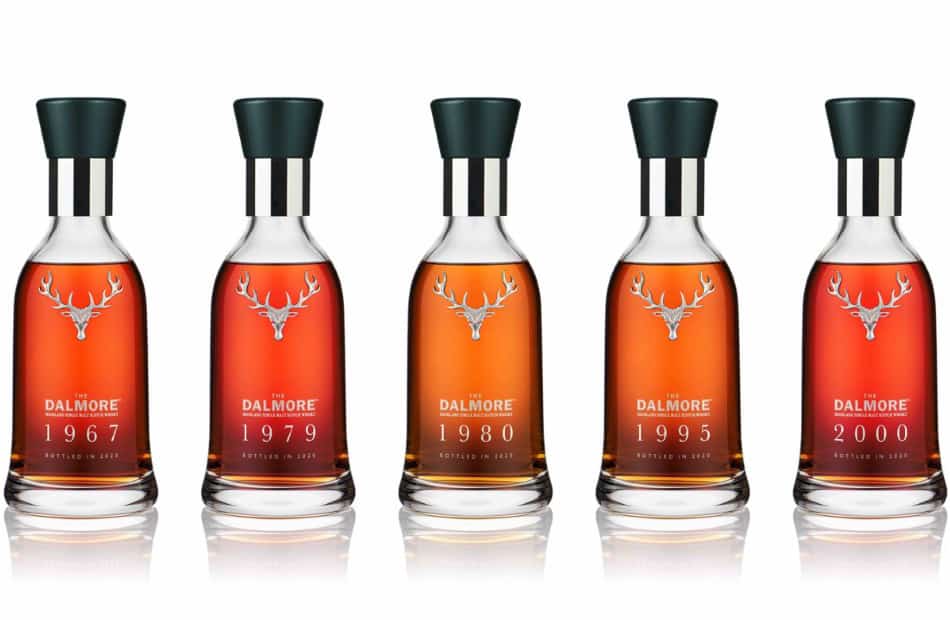 The Dalmore Decades Six Bottle Collection was created by The Dalmore's Master Distiller Richard Paterson. It consists of six bottles of Scotch whisky that represent the different decades (hence the name) in which they were distilled: 1951, 1967, 1979, 1980, 1995 and 2000. These years mark notable moments in Scotch whisky and The Dalmore distillery history.
The oldest of the six was bottled in 2011 and the rest of them in 2020, making the 1951 vintage one of the oldest Scotch whiskies ever to have been released by The Dalmore distillery.
Each vintage comes in a custom crystal decanter with a bespoke silver collar, a sterling silver Dalmore 12-point Royal stag emblem, and an illuminated pedestal topped with black oak, brushed chrome, and sterling silver.
There is only one Dalmore Decades Six Bottle Collection set and it sold at auction for $1.1 million. Part of the money was donated to Scotland's first design museum, V&A Dundee, as part of a four-year partnership between the prestigious cultural institution and the distillery.
8. The Intrepid: Macallan 1989 32 Year – $1.4m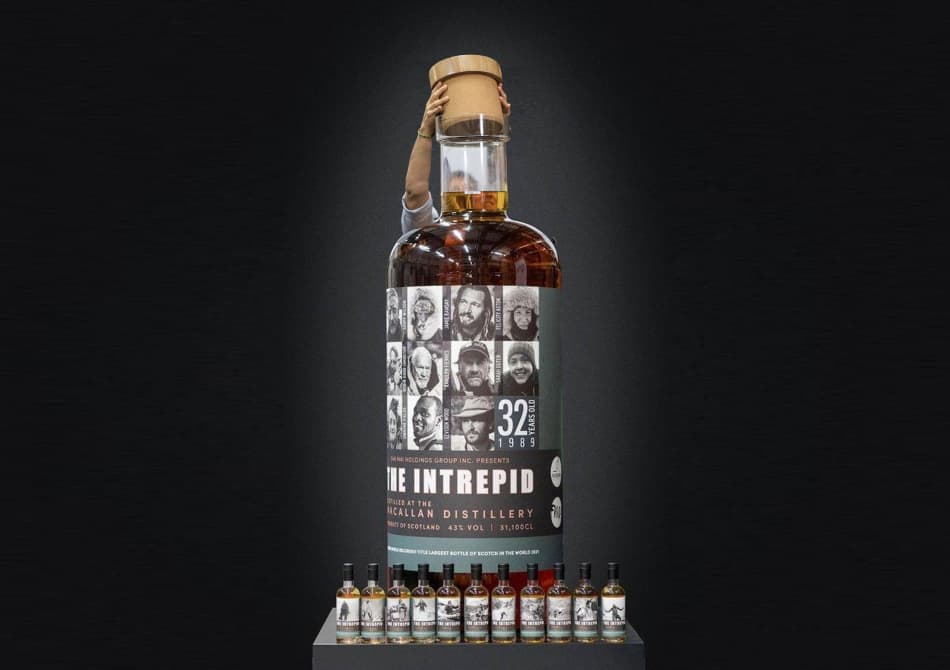 The Intrepid is a massive 86-gallon bottle of 32-year-old Macallan Scotch whisky. At 5'11", the bottle is nearly six feet tall and more than twice the width of the average man. It contains the equivalent of 444 standard sized bottles, so the price of $1.4 million makes it just over $3,000 a bottle.
9. Macallan 1926 60 Year Michael Dillon – $1.53m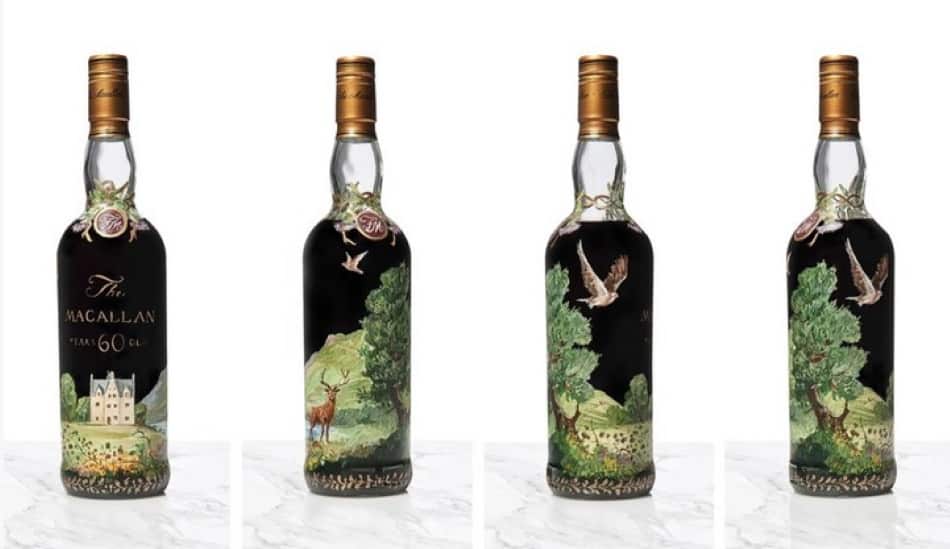 Returning to the above mentioned 40 bottles of 1926 60-year-old Macallan Scotch whisky – the fate of 24 of which has already been discussed, one of the remaining 16 were given to Irish artist Michael Dillon, who hand-painted the bottle design, which depicts the Easter Elchies House on the Macallan's Speyside estate, in beautiful detail.
It's obviously a one of a kind, and when it sold for $1.53 million (or £1.2 million) at Christie's auction house in London, it became the first whisky to sell for more than £1 million. 
10. Macallan 1926 60 Year Fine & Rare – $1.9m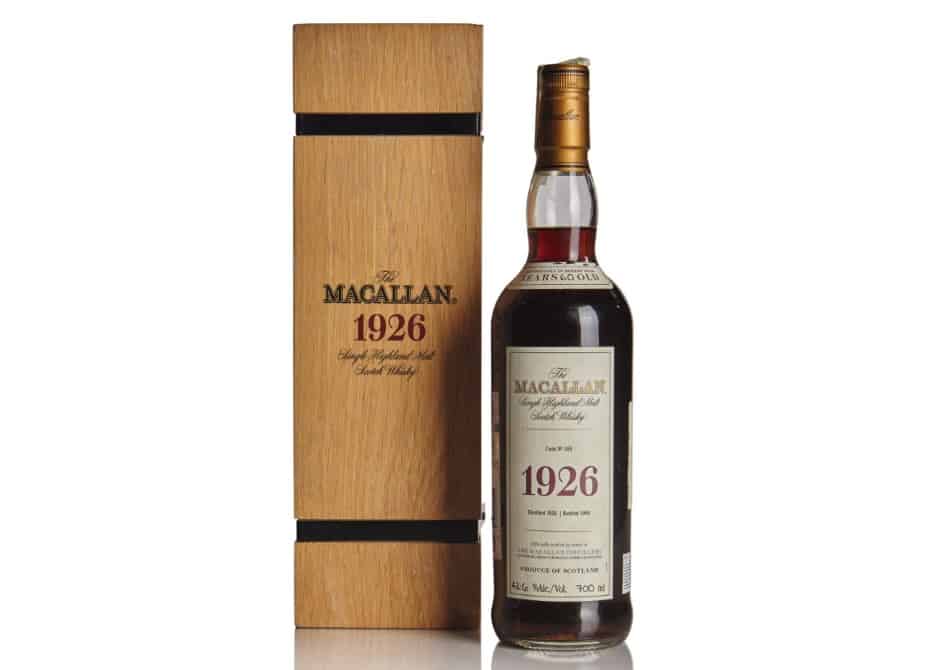 The rest of the 40 bottles of 1926 60-year-old Macallan Scotch whisky were made part of the Macallan Fine and Rare Collection – a series of 57 vintage single malt Scotch whiskies produced by the distillery over eight decades, becoming the oldest whiskies in the collection.
And one of the Macallan 1926 60-Year-Old Fine & Rare Collection whiskies was sold at auction for $1.9 million.
11. Cask of Macallan 1991 – $2.33m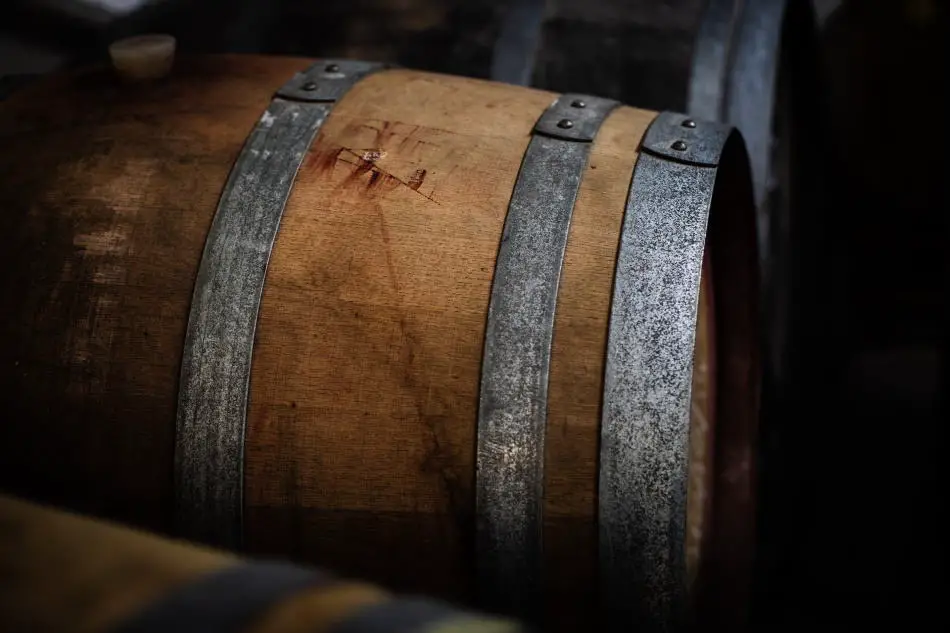 A rare cask of Macallan 1991 was recently sold at auction for $2.33 million. The cask is believed to contain about 600 bottles of over 30-year-old, 51.1%ABV Scotch whisky – making the price of each bottle about $3,800.
More importantly, since it's a cask and not a bottle or a decanter, it will lose approximately 2% of its volume each year due to evaporation. This will make its contents increasingly rare and therefore, increasingly more valuable. Most estimates for a return on investment are between 5% – 8% a year.
12. Isabella's Islay – $6.2m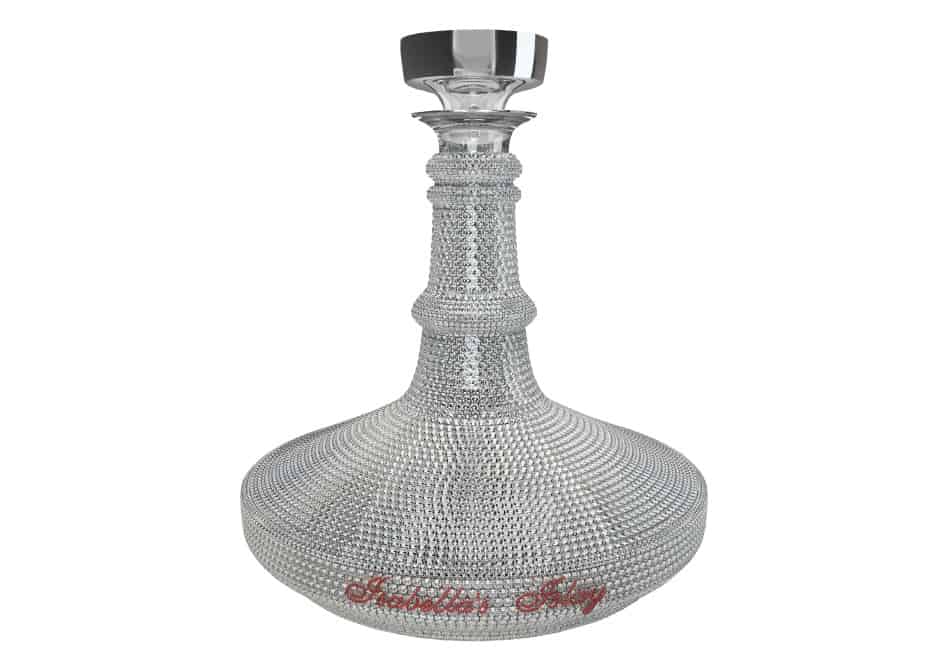 Isabella's Islay is a 40-year-old cask-strength single malt Islay Scotch whisky. That's all we know about the Scotch itself. We do, however, know a lot more about the decanter.
The decanter is made from English crystal and covered with pure white gold. That's right, it's covered with pure white gold. Additionally, with the exception of the top of the neck, the pure white gold is then covered with diamonds. That's right, the pure white gold is covered with diamonds. I know I've repeated myself twice, but I was worried you would think it was a typo.
The stopper is made of the finest white gold and the name 'Isabella's Islay' is written on top of the diamonds that are on top of the pure white gold that's on top of the English crystal, in rubies.
It took more than 5,000 diamonds, almost 250 rubies and the equivalent of two bars of white gold to make Isabella's Islay, so it's no wonder that it costs $6.2 million.