Sure, at first you'll think that enjoying whiskey is as simple as sitting back with glass of your favorite whiskey but once you discover how much more there is to this particular drink you'll need some whiskey accessories to help you enjoy your whiskey properly.
There are three types of whiskey accessories. Those that enhance the whiskey's flavor, those that help you make a whiskey cocktail and those that store your whiskey. While it's immediately clear how the first two help you enjoy your whiskey, the third does too, as I will later explain.
The accessories you need will depend on how you enjoy your whiskey, although you may find you enjoy it in multiple ways and consequently you'll need more accessories.
Personally, I want as many whiskey accessories as possible, so my well-meaning friends and family have to buy me something else for my birthday.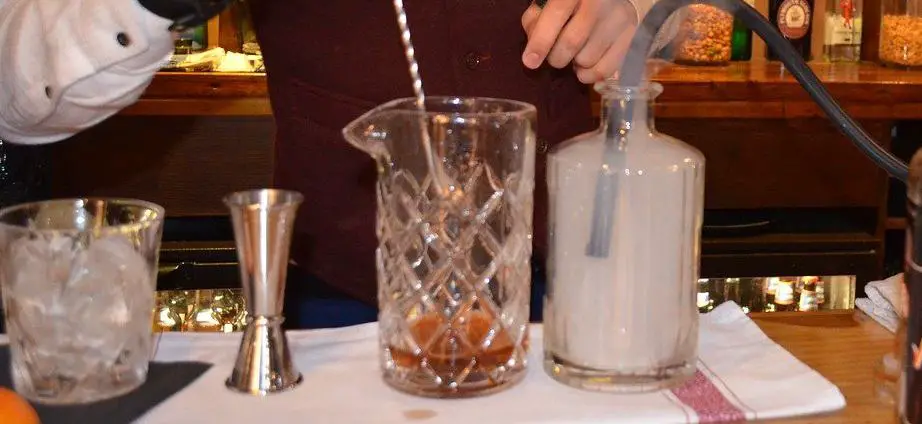 Accessories for Enhancing a Whiskey's Flavor
Whiskey Glasses
The most important whiskey accessory to help you get the most out of your whiskey is the glass you're drinking from. Whiskey glasses have a profound effect on the taste and flavor of whiskey and there are different types of whiskey glasses for different effects, the two main ones being nosing glasses and tumblers.
The purpose of nosing glasses is to get the most out of the whiskey aromas because they add to the flavor of the whiskey (flavor includes both taste and smell).
This is achieved by their shape. Their wide bowl means there's enough room for air to get to the whiskey so it can breathe and let the ethanol evaporate, and their long narrow neck allows the whiskey aromas to accumulate. With as much of the ethanol gone as possible and the whiskey aromas ready and waiting at the rim, you'll be able to savour and appreciate all the nuances in your whiskey.
Glencairn Whisky Glass​es
On the other hand, some prefer to calm the burn of the alcohol and make the whiskey a bit more palatable, by adding ice. This also means you can taste all the changes in your whiskey as the ice cubes melt and the added water opens up new and more subtle flavors.
However, adding ice immediately opens your whiskey up to the danger of becoming diluted. I know, we're talking about whiskey and I shouldn't exaggerate, so I'll say it with the appropriate level of seriousness. This immediately opens your whiskey up to the extreme peril / threat / hazard of becoming diluted. Yes, that's much better.
In order to avoid this, it's better to use one or two large or giant ice cubes as they have less surface area than many smaller ice cubes put together and will therefore melt slower. Of course, you won't be able to put large ice cubes into narrow-necked nosing glasses. Instead you'll need a whiskey tumbler whose wider opening has been designed for this very purpose.
KANARS Whiskey Glasses
For those who want to chill their whiskey but don't want to take any risk of it becoming diluted, whiskey stones are a must have whiskey accessory.
Whiskey stones are not as effective as ice cubes, but they don't need to be. They're not for those who want their whiskey ice cold. They're for those who want to chill their whiskey but not make it so cold that it starts to lose its flavor.
Bella Amazing Ice Ball Molds
For those who want to chill their whiskey but don't want to take any risk of it becoming diluted, whiskey stones are a must have whiskey accessory.
Whiskey stones are not as effective as ice cubes, but they don't need to be. They're not for those who want their whiskey ice cold. They're for those who want to chill their whiskey but not make it so cold that it starts to lose its flavor.
Balls Of Steel Whiskey Stones
Whiskey Water Jug
As already mentioned, slowly melting ice cubes add water to whiskey and opens up new and more subtle flavors. Some whiskey drinkers want the new flavors but prefer to keep their drink at room temperature and so add water instead. Now of course you can use anything to hold some water and then pour small amounts into your whiskey. It doesn't have to be a specially designated, easy to pour, luxury jug.
But it can be.
The Glencairn Official Whisky Water Jug
Whiskey Water Dropper
Since even one tiny drop of water can make a difference to the taste of your whiskey and a drop too much could ruin the flavor entirely, some prefer to be scientifically precise in how much water they add.
A water dropper allows you to add one drop of water at a time, so you can properly experiment with any given whiskey and discover the perfect amount of water that will bring out all its flavors.
They're very easy to use. Load the dropper into a water container (perhaps even the above whiskey water jug) and use your finger to cover the small hole at the top. Place the dropper over your whiskey and gently release your finger. Take a sip from your whiskey, noting the flavor, and repeat the process until satisfied.
Remember the number of drops of water that made this whiskey taste perfect and have another glass without needing to experiment.
Angels' Share Glass Whiskey Water Dropper
Cocktail Smoker or Smoking Box
Infusing your drink with smoke is a way of adding another layer of complexity to your whiskey. The added aromas and flavors will depend on the type of wood chips, dried herbs or spices you use to create the smoke, and once again you'll need to experiment, though this time with different ingredients, until you find out which ones have the aromatic qualities that fit perfectly with your whiskey.
And let's face it, a dramatic swirling smoking whiskey spectacle looks pretty cool too.
Adding smoke to your whiskey can be done easily, by turning a glass upside down over burning ingredients and when smoky turning the glass the right way up (the last part's obvious but I had to add it just in case) and then pouring your whiskey.
However, if you want more than the lightest flavor you'll need to use a smoke machine. They're pretty easy to use. Simply place your drink under the dome, light the wood chips in their smoking chamber and the smoke will move through the hose and fill the dome.
Gramercy Kitchen Company Cocktail Smoker
The smoking box works in pretty much the same way. You just open the door instead of … well I'm sure you've worked it out already. The main difference is that it's more luxurious and elegant. It also has doors on both sides, which means you can pour and smoke a drink for someone who's on the other side of the box. Open the box from your side and put the drink inside, smoke it and they can retrieve the drink themselves from the other side.
Crafthouse by Fortessa Glass Smoking Box
Accessories for Making Whiskey Cocktails
Whiskey is a very versatile drink and therefore great in a cocktail. Whether you want to make one of the many popular whiskey cocktails or experiment with various flavors, there are some whiskey accessories that you will need.
Bartender Kit
While it's certainly possible to improvise most bar tools by using random stuff you can find lying about in your kitchen, it's certainly not a long-term solution if you're going to be making whiskey cocktails on a regular basis. You won't want to be constantly trying to find one cup that fits inside another well enough so that when you shake it the contents don't go everywhere, and you'll eventually become fed up with using the combination of slotted spoon and tea strainer to keep the crushed ice out of your drink.
You're going to want the right tools for the right job.
VinoBravo 12 – Piece Bartender Kit
Mixing Glass
Once you're doing things properly, a mixing glass is also a must. You'll want one that's strong so that you don't have to worry about the glass cracking, and which has a lip for a smooth pour. That's right, you'll be going from improvising to stylish in two mildly expensive moves.
Mofado 18 Ounce Cocktail Mixing Glass
Accessories for Storing Whiskey
Now accessories that enhance the flavor or you use for making a cocktail are going to help you enjoy your whiskey, but it's not immediately clear how accessories that store your whiskey will do that too.
But enjoyment of whiskey is not merely about its flavor. Whiskey is a classy and sophisticated drink. Anything that adds to this class and sophistication will help you enjoy your whiskey.
Whiskey Decanters
Unlike wine, decanting whiskey does not improve it. Which is why you'll find that wine decanters are specific shapes that allow the wine to breathe and its aromas and flavors to open up, whereas whiskey decanters are designed for stability and beauty.
A beautiful non-essential item is an extravagance and luxury, and that's what gives it class and sophistication. Which is why on TV and in movies, lawyers, politicians, wealthy businessmen, action heroes, spies, evil villains trying to take over the world, and anyone trying to look like they have … class and sophistication, often pour whiskey from decanters.
KANARS Whiskey Decanter And Glasses Set
Some whiskey decanters have a more unique design. This globe whiskey decanter set with an antique ship in the bottle is super sophisticated and classy because besides looking beautiful and being non-essential, it evokes images of adventuring around the world in a grand ship – a very classy and sophisticated thing to do.
Godinger Whiskey Decanter And Glasses Globe Set
Liquor Dispenser
Another stylish way of storing and dispensing whiskey or any alcoholic beverage, it allows you to easily serve exactly 1.5 ounces with the push of a spring-loaded-dispenser button. No more having to pick up your bottle, open it, pour yourself a whiskey and then examining the glass to see if you have too little.
Next step, a butler.
Final Touch 6 Bottle Liquor Dispenser
Bar Cart Cabinet
Because you're going to need somewhere to store the various whiskeys you love and the numerous whiskey accessories you have in one location for quick and easy access.
And it should be elegant and beautiful because whiskey certainly is.
Design Toscano Sixteenth-Century Italian Replica Globe Bar Cart Cabinet